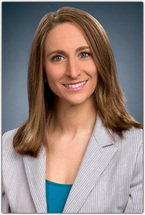 Dr. Chelsea B. Polis is an
epidemiologist
who works towards improving global
sexual and reproductive health
, on issues including contraception, HIV, abortion, and infertility. She has particular expertise on intersections between hormonal contraceptive methods and HIV-related risks, and her ongoing collaborations with the
World Health Organization
and the
Centers for Disease Control and Prevention
contribute to efforts in updating global contraceptive guidance in the World Health Organization's
Medical Eligibility Criteria for Contraceptive Use
.
Chelsea advocates for reliance on high-quality scientific research in policies and programs, particularly when considering controversial issues in public health. She has testified to the
US Food and Drug Administration
and spoken with Congressional staff about the necessity of relying on scientific evidence to avoid unnecessary politicization of women's health.
As an undergraduate at
Brown University
('02), Chelsea studied medical anthropology with a focus on teenage female sexuality and reproduction, and conducted research in
Madagascar
. She completed her PhD ('09) and post-doctoral fellowship ('11) at the
Johns Hopkins Bloomberg School of Public Health
. During this time, she worked closely with the
Rakai Health Sciences Program
in Uganda. She has worked or consulted for organizations including
Ibis Reproductive Health
, the
Bixby Center for Global Reproductive Health at UCSF
, the
International Consortium for Emergency Contraception
, the
Substance Abuse Research Unit
at
Rhode Island Hospital
, the
Initiative for Multipurpose Prevention Technologies
, and the
World Health Organization
.
In September 2014, Chelsea joined the
Guttmacher Institute
, where she serves as a Senior Research Scientist in the International Research division, leading projects in collaboration with scientists in Malawi, Zimbabwe, Ghana, South Africa, and elsewhere. She also holds an Associate appointment in the
Department of Epidemiology
at the
Johns Hopkins Bloomberg School of Public Health
. Between 2011 and 2014, she served as Senior Epidemiological Advisor to the Office of Population and Reproductive Health at the
United States Agency for International Development
, via the
Global Health Fellows Program
. She also serves as a member of the
Policy and Technical Advisory Council
to
IntraHealth International
, and volunteers on the Research Committee of the
Association of Fertility Awareness Professionals
.
Chelsea is interested in scientific communications, and believes it is important for public health professionals to engage with the public and the media. She has been cited in outlets including BBC News, Time Magazine, NPR, CNN, Kaiser Health News, Pacific Standard, Cosmopolitan Magazine, Popular Science, and elsewhere.
---