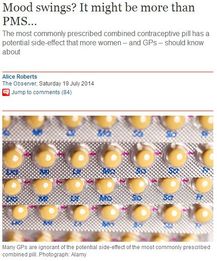 The article implies a link between premenstrual dysphoric disorder (PMDD) and oral contraceptive pills, based in part on the opinion of Peter Greenhouse, a consultant in sexual health who sat next to Roberts at a conference dinner. Roberts writes:

"[T]here was something else that Greenhouse said that immediately caught my attention: for some women with more extreme cyclical mood changes, going on the pill could be disastrous."
A strong assertion! Intrigued, I kept reading, eager for a discussion of the epidemiological evidence behind this statement (which contradicts information in resources like the evidence-based, frequently-updated book,
Contraceptive Technology
).