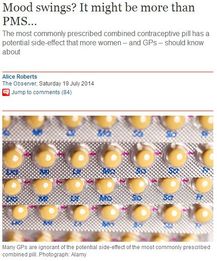 The article implies a link between premenstrual dysphoric disorder (PMDD) and oral contraceptive pills, based in part on the opinion of Peter Greenhouse, a consultant in sexual health who sat next to Roberts at a conference dinner. Roberts writes:

"[T]here was something else that Greenhouse said that immediately caught my attention: for some women with more extreme cyclical mood changes, going on the pill could be disastrous."
A strong assertion! Intrigued, I kept reading, eager for a discussion of the epidemiological evidence behind this statement (which contradicts information in resources like the evidence-based, frequently-updated book,
Contraceptive Technology
).
To my surprise, Roberts' article did not contain any epidemiological evidence to back up this assertion. She discussed her distressing post-partum experience on the pill, and concluded that all women should be "warned about these potentially incredibly damaging side-effects of such a routinely dished-out contraceptive pill." She also claimed that mention of this possible effect is "distinctly lacking in the warning notes that come with the pills" - which is inaccurate (see Ovrette
package insert
, but note that package inserts often include
a laundry list of conditions that may or may not have to do with the medication
).
Shouldn't we expect more critical thinking on health-related issues from scientists, especially those who engage frequently with the public?
How should we weigh anecdotal evidence?
While anecdotal evidence has a role in medicine, it "
should play only a very minor and clearly defined role
". Yet, anecdotal stories can feel "
so powerful that they cause people to ignore contrary evidence"
, and
confirmation bias
(favoring information that confirm's one's beliefs, and selectively ignoring other information) compounds the problem. As the saying goes; the plural of anecdote is not data (which is more systematically collected and documented, and which can better consider potential confounding factors).
For someone (especially a scientist! with a large online platform!) to posit anecdotal evidence as a basis for guiding clinical practice is irresponsible. That does NOT mean that this potential association should not be considered in well-designed scientific studies.
On Twitter, someone noted that the anecdotal story was interesting, but asked for scientific studies to back up the claims. Roberts replied:
While I was glad she provided at least
something
, when I looked at
the study shared
, the poor quality of the study (for making any causal inference, at least) leapt off the page. This is a
cross-sectional study (which can never be used for causal inference), with no control group (meaning, no ability to know if outcomes were related to the pill, or something else), which excluded women who did not report side effects (thereby inflating the reported proportion of those who
did
report side effects). It was also unclear whether all women reporting mood changes had reported
negative
mood changes (other studies have found improvements in mood as a result of hormonal contraception, so this is important).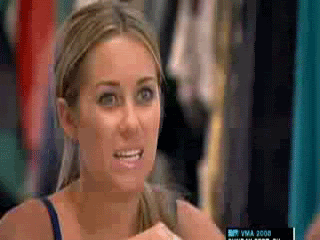 Random, not-so-useful citation: 1, evidence-based medicine: 0.

Back in Twitterverse, (conspiracy?) theories were already flying - such as (I'm paraphrasing):
- research isn't done on this issue because scientists shrug off its importance and ignore women's voices, or
- studies do suggest links, but those studies are suppressed by Big Pharma, or
- (By Dr. Roberts herself): general practitioners won't speak out on this issue because of:
Despite claims (from folks who had clearly not searched the literature) that very few pertinent studies existed because of cold-hearted scientists and Big Pharma suppression, it took about 30 minutes to compile a list of about 30 relevant studies.
OK Chelsea...so what do YOU think the data say on this issue?
Personally, I don't form hard opinions on these important issues until I've read the data (or a well-done systematic review) myself. On
quick read
most studies I saw did not appear to support a link between oral contraceptive pills and mood disorders/depression/etc, which aligns with information summarized in
Contraceptive Technology
.
But the point of this blog is not to try to reach a conclusion on that issue; I'd only do that after a substantial investment of time and effort with the data
(and I certainly wouldn't make suggestions for clinical practice without putting in that effort!).
My philosophy is that we should always remain open to new scientific information, and never, ever cherry-pick evidence - which is why I am such a big fan of
systematic reviews
. I hope to look at these data in-depth soon, but for the time being, I've started a list of the studies at the end of this post. Please feel free to add to this list* (hopefully without regard for the study conclusions; as that part comes later).
Sooooo, then, what's your point?!
That WOMEN DESERVE BETTER when it comes to having access to accurate, scientifically-based information about important health issues - especially from people who are trusted by the public.
We deserve a reliance on evidence (and an openness to valid, methodologically-based critique of evidence!) from journalists, bloggers, advocates, providers, scientists...from everybody. Why?
Because relying on rigorous scientific evidence is the only way that we can make true progress towards improved health for all.
Anecdotal stories are highly meaningful to each individual, should not be ignored by clinicians, and are
sometimes
important signals for larger issues. But scientists and others must be careful not to rely on anecdotes instead of data when looking at issues on a population level. This article (and the many others like it) risks scaring women away from a method that might otherwise be a good fit for them, which is no laughing matter when over
50% of pregnancies in the United States are unintended
(and
nearly 50% in England and Wales
), and when
unintended pregnancy may also be associated with mood disorders
or
complicate treatment for women with pre-existing mood disorders
. Women need options; what works well for you may not work well for me, and vice versa.
Roberts concluded her article by noting that the whole thing "makes [her] just a little bit angry. Not irrationally angry. Not irritable. Just proportionately, understandably angry."
You and me both, sister. You and me both.
References
:
Mood swings? It might be more than PMS… By Alice Roberts. The Guardian/The Observer. Published July 19, 2014.
Hatcher RA, Trussell J, Nelson A, Cates W, Kowal D. Contraceptive Technology, 20th Revised Edition. Atlanta, GA: Ardent Media, Inc., 2011.
*Some studies identified on this issue, presented in no particular order, and with no claim that this search was comprehensive or systematic.
http://www.ncbi.nlm.nih.gov/pubmed/24043440
http://www.ncbi.nlm.nih.gov/pubmed/23944249
http://www.ncbi.nlm.nih.gov/pubmed/22467147
http://www.ncbi.nlm.nih.gov/pubmed/17629629
http://www.ncbi.nlm.nih.gov/pubmed/17161120
http://www.ncbi.nlm.nih.gov/pubmed/11479103
http://www.ncbi.nlm.nih.gov/pubmed/3978343
http://www.ncbi.nlm.nih.gov/pubmed/22465115
http://www.ncbi.nlm.nih.gov/pubmed/23864301
http://www.ncbi.nlm.nih.gov/pubmed/24015872
http://www.ncbi.nlm.nih.gov/pubmed/23219471
http://www.ncbi.nlm.nih.gov/pubmed/23121822
http://www.ncbi.nlm.nih.gov/pubmed/23131613
http://www.ncbi.nlm.nih.gov/pubmed/22673038
http://www.ncbi.nlm.nih.gov/pubmed/23152475
http://www.ncbi.nlm.nih.gov/pubmed/22537684
http://www.ncbi.nlm.nih.gov/pubmed/22136510
http://www.ncbi.nlm.nih.gov/pubmed/23833619
http://www.ncbi.nlm.nih.gov/pubmed/22166277
http://www.ncbi.nlm.nih.gov/pubmed/21840911
http://www.ncbi.nlm.nih.gov/pubmed/18288601
http://www.ncbi.nlm.nih.gov/pubmed/18599013
http://www.ncbi.nlm.nih.gov/pubmed/18760521
http://www.ncbi.nlm.nih.gov/pubmed/19041441
http://www.ncbi.nlm.nih.gov/pubmed/17314012
http://www.ncbi.nlm.nih.gov/pubmed/17713839
http://www.ncbi.nlm.nih.gov/pubmed/16580672
http://www.ncbi.nlm.nih.gov/pubmed/16206030
http://www.ncbi.nlm.nih.gov/pubmed/14710055
http://www.ncbi.nlm.nih.gov/pubmed/12128235
http://www.ncbi.nlm.nih.gov/pubmed/22473394
http://www.ncbi.nlm.nih.gov/pubmed/19067135
http://www.ncbi.nlm.nih.gov/pubmed/17688380
http://www.ncbi.nlm.nih.gov/pubmed/17362710
http://www.ncbi.nlm.nih.gov/pubmed/16299641
http://www.ncbi.nlm.nih.gov/pubmed/15236788