On March 30, 2015, Governor Doug Ducey of Arizona signed into law Senate Bill 1318, which requires doctors to tell women* getting an abortion that
"it may be possible to reverse the effects of a medication abortion if the woman changes her mind, but that time is of the essence", and that "information on and assistance with reversing the effects of a medication abortion is available on the Department of Health Services' website"
.
In the US, medication abortion is typically a two-step procedure, first involving
taking mifepristone, and within two days or so, taking misoprostol
. On its face, SB 1318 seems intended to inform people that if they change their mind during that window between the two medications, an evidence-based medical procedure is available to help "reverse" the effects of the mifepristone (
spoiler: the bill doesn't actually accomplish this goal
).
People should have evidence-based information about
all
of their reproductive options, so they can make the best choice for their own individual circumstances. Even though the proportion of women who wish to terminate a pregnancy and then change their mind after taking mifepristone is likely to be small, any such person should absolutely be made aware of any scientifically proven intervention that can help them safely achieve their reproductive goals. So, is there scientific evidence for abortion reversal?
What's the evidence for "abortion reversal"?
As of April 18, 2015, no information is available on the AZ Department of Health Services' website. In the scientific literature, the only publication on "abortion reversal" is
a case series report of seven women (only six of whom provided outcome information), by George Delgado and Mary Davenport
. In short, those six women took mifepristone, then had a series of progesterone injections (some women received around 40 or more progesterone injections during pregnancy), sometimes along with oral progesterone. The timing of the first progesterone injection varied widely - ranging from 7 to 72 hours after mifepristone (timing was not documented for one woman). Of those six women, four eventually delivered healthy newborns.
Since this manuscript is in a peer-reviewed journal, and since it suggests that about 2/3rds of these women delivered healthy babies, does that mean this so-called "abortion reversal" procedure is evidence-based?
As Gaga says: "NO". Why not? Let's briefly review the hierarchy of scientific evidence.


Hierarchy of scientific evidence
The lower something is on this pyramid, the less likely it is to provide robust scientific evidence. The higher it is on the pyramid, the more confidence you can generally put in the findings -
assuming the methods are sound.
(
As an aside: if done poorly, even systematic reviews and meta-analyses can be garbage. A good epidemiologist can help you determine whether the methods of any given study or review look solid. Hug an epidemiologist today!
).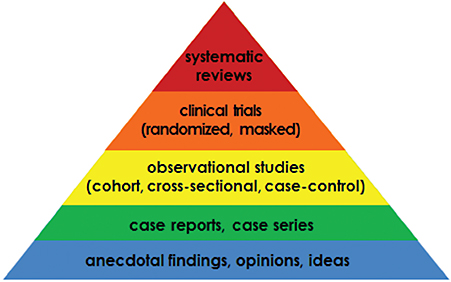 Most (um...
not all
) people know that
anecdotes
(at the bottom of this pyramid) cannot be used to establish whether a relationship between a drug/intervention and a health outcome is causal.
Case reports and case series
are essentially a collection of anecdotes, described in a (hopefully) detailed and systematic manner. They help to generate hypotheses, but can't provide proof of safety or effectiveness, because they do not include information on a comparison group of people unexposed to the drug/intervention in question.
Moving higher up,
observational studies
do include a comparison/unexposed group, but for reasons I won't go into here, it isn't always clear whether that comparison group is similar enough to the 'exposed' group to confidently determine cause and effect.
Randomized studies
aim to ensure better comparability between groups, helping us draw more confident conclusions.
Systematic reviews
(which sometimes also include a statistical meta-analysis) are super-duper awesome: they consider
all
studies on an issue, putting the entirety of evidence into better perspective (because sometimes individual studies can have spurious findings).
Ok, so, what's that mean for the Delgado paper and SB1318?
The Delgado paper is merely a case series (low on the evidence hierarchy), and at that, a very limited case series (only six women, all of whom received a slightly different intervention in terms of timing, dose, and route of progesterone administration). It can't tell us if progesterone injections after mifepristone provide any benefit, as compared to doing nothing (i.e., not taking misoprostol). As
David Grimes
, a physician-epidemiologist, noted in
his recent blog
on
RH Reality Check
- doing nothing might be just as effective (and involve less cost and no need for a potentially large number of injections):
A recent prospective study in France followed women given mifepristone for abortion and who subsequently changed their minds before receiving a prostaglandin. These women did not receive "abortion reversal" progesterone. Among the 46 women exposed to mifepristone at a mean of nine weeks' gestation, 37 (80 percent) had a live birth. Only 17 percent had a miscarriage, and one chose an induced abortion when Down syndrome was diagnosed in her fetus. Thus, the continuation rate in France without progesterone treatment was similar to that in the Delgado and Davenport article with progesterone treatment.
Neither the Delgado paper nor SB 1318 provides any information about potential downsides of interrupting a medication abortion or of receiving an unproven intervention. In short,
robust, peer-reviewed scientific evidence does not currently exist
to support the idea that any particular procedure can safely and effectively "reverse" the effects of mifepristone. This has not stopped George Delgado from promoting the idea on his website, or from the AZ legislature from acting crAZy.
Bottom line: doctors are being forced by the state of Arizona to "inform" patients about an entirely evidence-free medical intervention.

FOR SHAME, Arizona. For shame.

Women seeking care should not be treated like lab rats with recommendations for evidence-free interventions.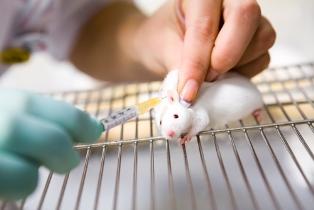 Your moment of zen
Since I hate to end on such a depressing note, I'll add one more thing. Discussing these nerdy epidemiological nuances on social media can have an impact. Taking the time to engage can encourage people to reconsider promoting an unproven "abortion reversal" protocol, as suggested in the encouraging Twitter exchange below with Tiana Sakr/@AussieProLife (update: subsequent to the original posting of this blog, her Twitter name was updated to Women&Babies Support/@wombs_intl).

So, scientists, make your voice heard. We owe it to people seeking information that will allow them to safely and effectively reach their reproductive goals, whatever they may be.
Notes:
* Women are not the only individuals who may require abortion services; transgender men and other gender non-conforming individuals with an ability to get pregnant may also require abortion services.

Main reference:
Delgado G, Davenport ML. Progesterone Use to Reverse the Effects of Mifepristone. The Annals of Pharmacotherapy 2012;46(12):e36.